Biker friendly accommodation in the Haute Provence
Les Glycines welcomes bikers. The Haute Provence is fantastic for a motorbike holiday in Provence.
Our accommodation is located about 150 metres from the RN 4075, the road leading from Grenoble to the Mediterranean coast. We do our best to make your stay as comfortable as possible!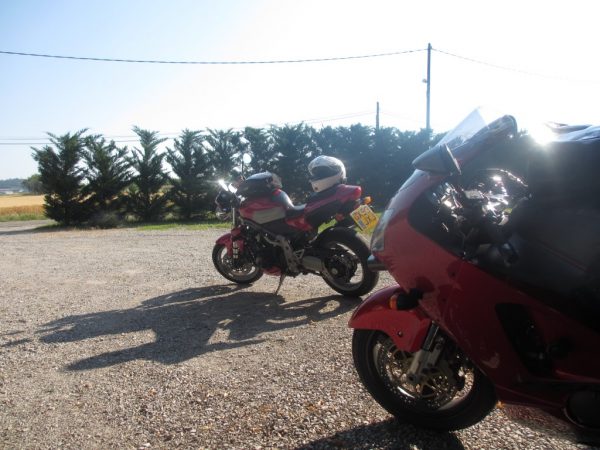 Trips for motorcycle touring in Provence
Take a hike on the Route Napoleon and through the Parc National de Mercantour. Don't miss the Gorges du Verdon or Plateau de Valensole either! Within 1.5 hours you are at the Mediterranean Sea or in Marseille. Too much to choose, we are happy to give you some advise on trips. USB flash drive with more than ten trips available.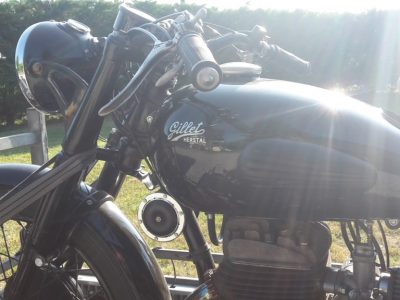 Haute-Provence Motorcycle Museum

Le Musée de la Moto, Entrevaux, Haute-Provence, France … The museum is the second largest collection of motorbikes, mopeds and motor assisted bicycles in France, all packed into the two floors of one of the narrow old town houses. About 70 motos are on display, ranging through a 1944 British Army BSA, Belgian FN, Velocette LE, Moto Guzzi, MV Augusta. Moto Graziella 1974 (folding handlebars, and pedals, trailing link front fork, and 50cc Sachs), Cyclemaster (lady's Raleigh frame), Mosquito 1948, Ducati Cucciolo 1949 (interesting frame with rear rubber band suspension), Solex – including an example of first model made – all the familiar names were there, plus unfamiliar French(?) models. Ardent 1951 (like a child's shopper with 10inch wheels), Whizzer 1947, Lacombe 1924 and VAP 1946 vélomoteurs.
Les Glycines has:

a large covered parking
securing point for chainlocks
a dry room
toolbox
space for motor-trailers
nearby there is a bikers garage.
Comfortable apartments / gites
Our comfortable apartments are self-catered. You will find a bakery and small supermarket at 2-minutes' walking distance. A bigger supermarket (Super U or Intermarché) you will find at approx. 5 km. If you feel like going out for a meal – ask us to make a reservation at one of the restaurants (list of restaurants in your apartment).